One of the nongovernmental organizations strongly supported by Decathlon is LÁSS (Recreational Sports Association for the Visually Impaired), in which several joint sporting events (running, horseback riding, skiing, and hiking) have been organized by company employees in recent years and have been held together for years. Free Weekly Fitness Training, Invisible Fitness. After joint sports experiences, the company has taken another important step towards visually impaired customers: from April 7, 2021, in cooperation with the Hungarian National Association of the Blind and Partially Visually Impaired (MVGYOSZ), it has introduced a service called VásárLÁSS in all of its stores to help them obtain appropriate sports equipment.
Help is free
The free service provides personal advisory assistance to visually impaired shoppers from arrival to departure, who only need to indicate in advance in Decathlon's customer service the day they want to go in any store. Contact Decathlon to facilitate the connection Visually accessible subpage Also, all their customer service contact details can be found in one place.
– One of my colleagues is waiting for our pre-registered blind or partially sighted customer at the entrance at the agreed time, who will assist in selecting and testing products, as well as answering any technical questions that may arise. This goes far beyond product knowledge, said Mariana Julias, Decathlon's Social Responsibility Project Manager, as most of our colleagues do sport at the amateur or professional level, so they will be able to help provide helpful advice and share their experiences.
a
Shopping service
Recreational sports have become a part of the daily life of an increasing number of blind and partially sighted people. For regular sports, we usually need healthy visual assistants, whether that's running, hiking, tandem biking, or even skiing or climbing walls. Ensuring this often takes serious organizational work from us, so it is a huge relief that you do not at least have to enlist the help of acquaintances or family members to purchase sports clothing and equipment. In addition, the location and knowledge of Decathlon's employees ensure that we can quickly find the products you are looking for and obtain accurate and professional information. There are places and situations where the quickest and most obvious personal assistance for a visually impaired person is for the other person to be prepared and more responsive to their needs, which even the latest technology will not be able to replace. I think sport is related to each other, so I am sure that visually impaired shoppers and amateur store workers will easily and naturally find a common topic when they meet during store service, and that new bridges will be built between the visually impaired and the visually impaired – said Orsolya Németh, Professional Director of MVGYOSZ.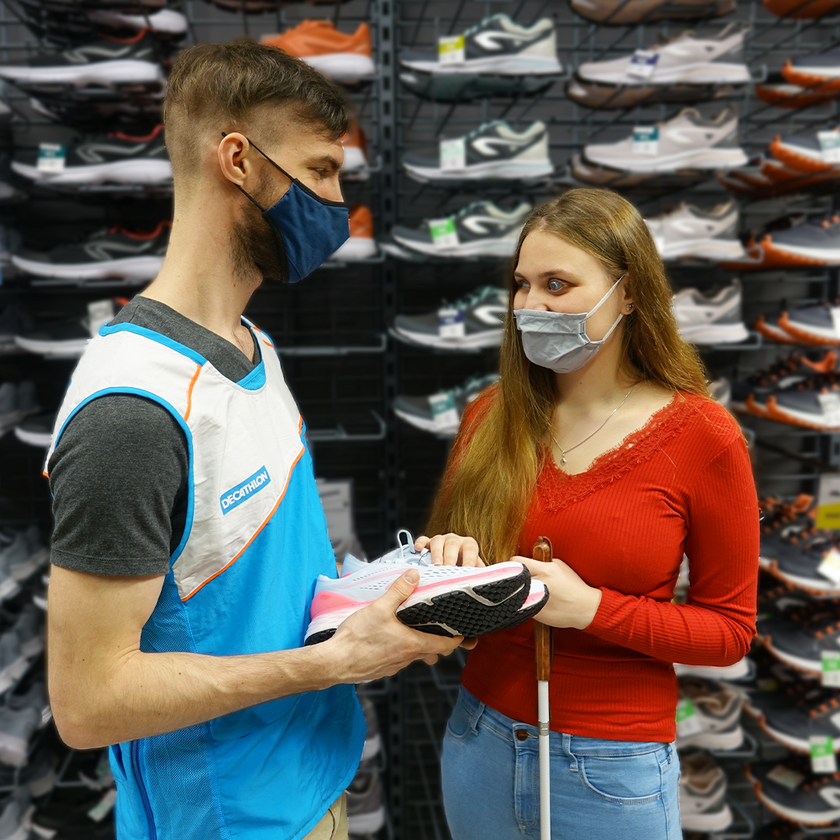 Creating equal opportunities, whether in sporting events, work or our shopping experience, is a priority in our responsibility to society. Advice from civil society and advocacy organizations is of great help to us in these areas. Mariana Goulias emphasized that our work towards a diverse and inclusive work and social environment would not be possible to contemplate without their professional support.
This isn't the first time the company has offered a similar service in the country: in 2018, with professional help from the National Autism Association (AOSZ), Silent Opening was launched to help clients with autism and their families. Reception has been constantly monitored with AOSZ, and has also been modified in light of experience gained and needs that have arisen, so stores are now quieter on the first Monday of every month from 4 to 6 pm.
(Image source: Decathlon, Getty Images Hungary)
"Social media evangelist. Baconaholic. Devoted reader. Twitter scholar. Avid coffee trailblazer."