Apple's monopoly is over!
First, Realme is developing and launching its own solution along the lines of Apple's MagSafe technology – Writes GSM Arena with reference to exclusive materials received from the manufacturer.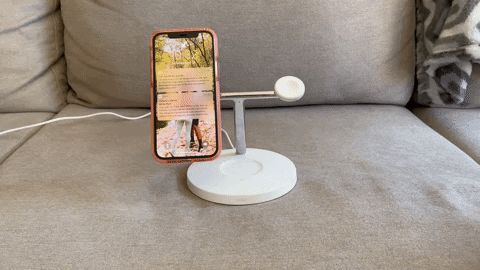 Realme, part of China's BBK electronics conglomerate, has named its magnetic charger MagDart, and the first device will be the soon-to-be-released Realme Flash, which will support the technology. It is true that Apple's charger can also transfer power to Android devices if they support QI standard charging.
In addition to the MagDart name, it also bears a similarity in operation to MagSafe chargers. It clicks on the magnet on the back of the device and then transmits power wirelessly. It is not yet known how fast to expect from MagDart wireless charging, Apple's MagSafe can deliver up to 15W, but other brands from Realme's parent company do not have 30-45W of wireless charging.
It also notes that for a charging speed of more than 15W, the MagDart's built-in fan is also present. The manufacturer has not shared any information in this regard yet. The wireless charger draws power from a wall outlet via a USB Type-C cable.
However, it was announced that their device called Flash will sport three rear cameras, Snapdragon 888 SoC, 12GB system memory and 256GB storage, so we can talk about a top-of-the-line device. The operating system will be Realme UI 2.0 based on Android 11, however, the release date has not yet been announced.
"Social media evangelist. Baconaholic. Devoted reader. Twitter scholar. Avid coffee trailblazer."