This summer is the first major test for tourism after the pandemic. The level of vaccination of the population varies from country to country, and the prevalence of the delta variant requires new restrictions. However, it can be seen that wherever there is an opening, people enthusiastically welcome the services available again. However, despite the backlog of travel demand, the pandemic has changed travel preferences, and travelers' decision-making considerations at a number of points, and new travel trends have emerged.
Domestic tourism, like last year, could generate strong demand this year as well, as evidenced by UK booking data, for example.
At the beginning of June, the occupancy rate for regional markets within the country was 60 per cent, and the average occupancy for London hotels was 30 per cent. The Spanish beaches favored by British tourists are virtually empty, while the summer tourist record of 6.4 million in Scotland may collapse.
Throughout Europe, in addition to domestic travel, travel to regional neighbors easily accessible by car may prevail this summer. In many cases, entry by car is allowed without restrictions, while flights operate at reduced capacity on several routes, and frequent cancellations are discouraging.
According to a study published by Airbnb
This summer's hit might be The Great Escape to the Country. In 2015, country travel accounted for less than 10 percent of booked Airbnb nights globally. In 2021, this will more than double – in some countries (Canada, France, UK and Australia) three times – and in Italy, reservations in rural tourism have increased by more than 800 percent.
In addition, the epidemiological situation has reinforced people's need for nature, health and active experiences. As a result, a number of alternative tourism products may be popular with tourists fleeing city captivity this summer as well as in the medium term.
It can feature rural tourism, camping, motorhome travel or various active tourism programs (such as water hiking).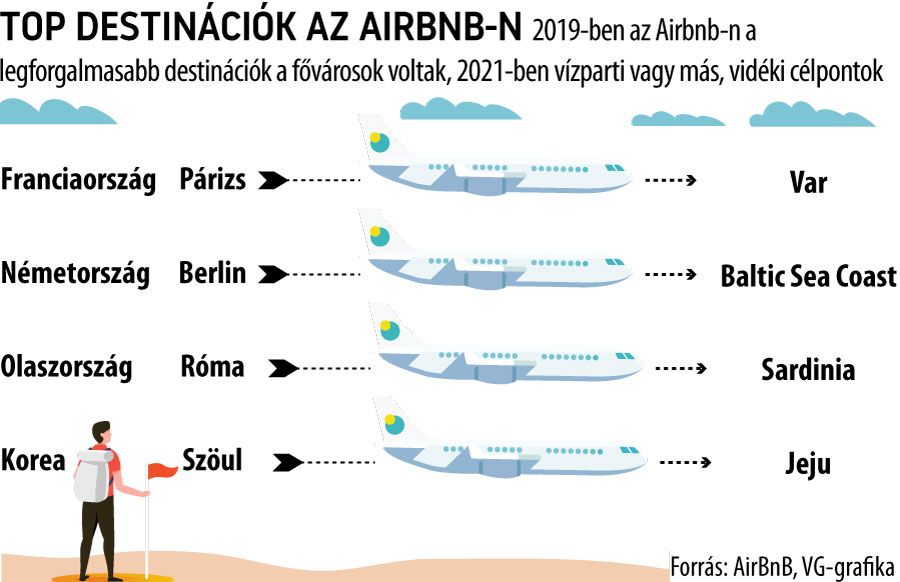 City travel is still kind of behind these destinations, with a good indication of the trip. The volume of international air traffic this summer is also significantly lower than the data measured in the last record year before the pandemic (2019).
According to ForwardKeys, international aviation will not reach more than 23 percent of pre-pandemic levels in 2021, compared to the European average of 22 percent. Although some destinations—particularly in the Balkans—perform better than average, Germany, Britain, and France, but even Italy are below 20 percent. Because of the stricter management of the epidemic, the numbers in Asia are especially worrying, with many countries in the region making it difficult to travel, so they cannot be expected as sending countries either, which is a big loss for Europe this year as well.
With regard to Hungary, international trends also prevail here, which are expected to have a similar impact on tourism in Budapest and Lake Balaton as last year. In the years before the pandemic in Budapest, international tourism was clearly dominant, with international tourists spending more than 90 percent of guest nights in the capital in 2019. International guest traffic appears to be very low in Budapest this summer as well.
Recovery may begin in the fall, when, in addition to leisure tourism, business and event tourism in the capital (World Eucharist Congress, World Hunting Fair) may begin in the wake of international events. However, the prerequisite for recovery is that the summer depression does not cause another wave of epidemics across Europe.
Lake Balaton can be considered the number one local destination this year as well. In the spring, bookings have shown that accommodations in the area can expect heavy traffic. However, a newly introduced vaccine passport and free travel to neighboring countries may change the picture somewhat. A special advantage of the epidemiological situation is that guests were able to book accommodation on all accommodation portals flexibly, without prepayment with free cancellation. Thus, it is conceivable that during the summer the occupancy of accommodations and the beaches of Lake Balaton will decrease somewhat, because there will be those who will cancel their reservation and prefer to vacation abroad. Attractive discounts on beachfront accommodation, avoidance of crowding, the desire for a vacation abroad and cheap flights can enhance this phenomenon.
Experts are still setting the full recovery of global tourism around 2024. This summer may prove to be a clear test of recovery prospects. If vaccination continues to rise globally and another wave of epidemics does not break out in the fall due to the summer depression, the sector may continue to grow steadily to return to record levels within a few years within a few years.
Cover photo: Tolga Akmen / AFP
"Social media evangelist. Baconaholic. Devoted reader. Twitter scholar. Avid coffee trailblazer."